Blog
DirectDemocracyS Blog yours projects in every sense!
4 minutes reading time
(825 words)
Elezioni amministrative in Italia 2021 domenica 3 ottobre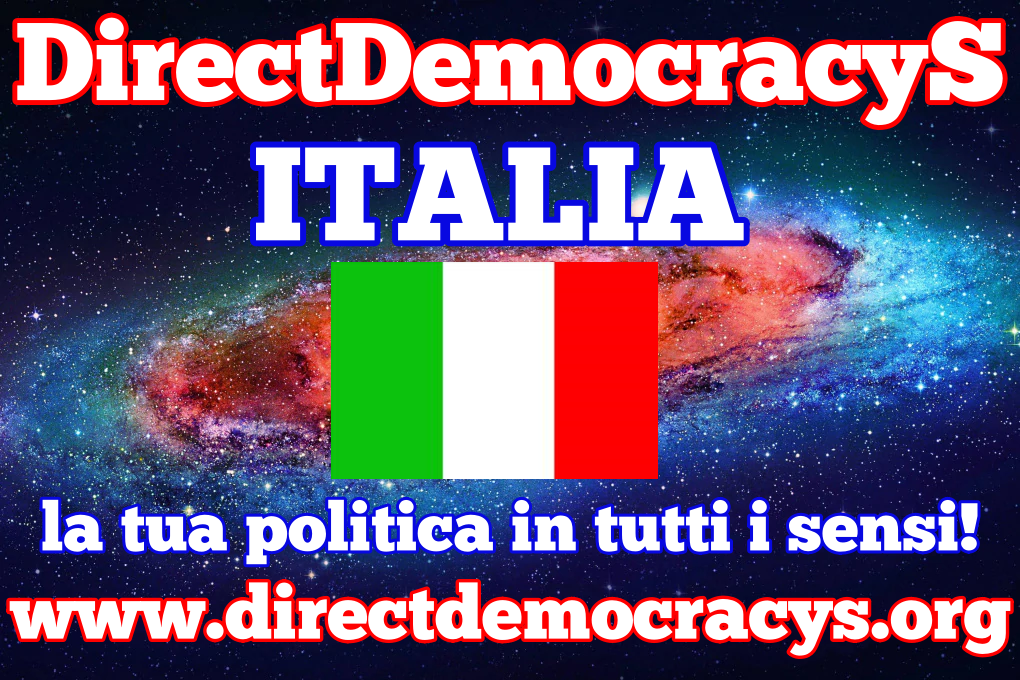 Ciao cari amici di DirectDemocracyS Italia.
Questo articolo è stato scritto prima dei ballottaggi, ed è un commento del primo turno. Domenica 3 ottobre 2021.
Vogliamo commentare brevemente, i risultati elettorali parziali, delle ultime elezioni amministrative in Italia.
Come sempre i partiti tradizionali e i loro rappresentanti politici, faranno a gara a commentare, dicendo tutti le stesse cose.
Stranamente, comunque vadano le elezioni, sembra che abbiano vinto sempre tutti, se uno vince in un Comune, o Regione, sembra che abbia vinto dappertutto.
Parlano una strana lingua, e hanno uno strano modo di calcolare, e commentare le percentuali.
Noi ci permettiamo di dire la verità: hanno perso tutti.
Elezioni amministrative 2021, affluenza al 54,6%: il dato definitivo in calo rispetto al 2016.
Non si sono presentati al voto quasi il 45,4% di chi ne aveva il diritto.
A Roma meno della metà (circa il 48%) degli aventi diritto, ha votato.
Da anni in Italia il partito più forte, quasi la maggioranza relativa, è di quelli che non vanno a votare.
Anche se è a coloro che non hanno votato, che noi ci rivolgiamo, ci permettiamo di citare Platone (428 a.C./427 a.C.-348) che saggiamente diceva: "una delle punizioni che ti spettano per non aver partecipato alla politica è di essere governato da esseri inferiori".
Non serve a niente non presentarsi, per esprimere il proprio voto, piuttosto serve trovare un modo, per far detenere il potere, solo ed esclusivamente, a chi ne ha il diritto.
Per noi di DirectDemocracyS, il potere deve essere completamente del popolo (il significato di democrazia è esattamente questo, potere al popolo), ma non solo per il periodo delle elezioni, ma anche successivamente.
Molti si chiederanno, e molti ce lo hanno già chiesto tramite il modulo contatto sul nostro sito, come mai vi rivolgete principalmente a chi non ha votato?
Per vari motivi, alcuni di convenienza (la base che potrebbe unirsi a noi tra chi non ha votato è immensa), ma ci rivolgiamo a chi non si sente rappresentato da nessun partito, e da nessun politico attualmente presente, perché noi essendo nuovi, appena concepiti, non vogliamo avere al nostro interno, elettori, e poi candidati, di altri partiti, che partono già con ideologie, divisioni, spesso odio, per chi non la pensa come lui.
Chi è di destra, sinistra, centro, può unirsi a noi, solo se accetta, e sottoscrive, i nostri ideali e i nostri valori, che non sono cose astratte, ma concrete e condivisibili da tutti, e deve essere chiaro, ogni parola, ogni lettera, ogni numero, che è scritto nel nostro regolamento, e nei nostri articoli, sul nostro sito web, sono validi per tutti, nessuno escluso.
I nostri programmi politici e le strategie, si decideranno insieme, ogni idea è accettata e si discute, decide e si vota online tutti insieme, e lo si fa su qualsiasi argomento, o scelta da fare, purché non vada contro i nostri ideali, i nostri valori, o contro il nostro regolamento.
Insistiamo sul fatto del rispetto delle regole, perché noi saremo l'unica organizzazione politica internazionale, con un partito in ciascun paese del mondo, e se non rispettiamo tutti tutte le regole, rischiamo di fallire, di non raggiungere il nostro obiettivo, che è una vita migliore per tutti.
Per quanto riguarda i risultati delle elezioni, quasi tutti i risultati rispecchiano le aspettative, quasi nessuna sorpresa, in Calabria vince il centrodestra, a Roma al secondo turno si alleeranno i partiti giallorossi e vincerà Gualtieri (ai 5 Stelle diciamo che se la Raggi ha fatto un buon lavoro, non capiamo come mai sia arrivata al 4° posto), Bologna Torino Milano Napoli nessuna sorpresa vince, o vincerà il centrosinistra, il centrodestra va malissimo (ma era prevedibile), anche grazie ai troppi scandali (veri o presunti, giusti o a orologeria, non sta a noi giudicarlo), ma sono riusciti a presentarsi con candidati poco incisivi. Il centrosinistra si illude di aver stravinto, ma a livello nazionale le destre sono leggermente in vantaggio sulle sinistre.
Sul ex MoVimento 5 Stelle attualmente Partito Movimento 5 Stelle, Giuseppe Conte era molto felice, di ottimi risultati, lodando più il PD e la coalizione, del proprio partito.
Contento lui di aver dimezzato, tante volte, in tanti posti i voti del suo partito, contenti tutti.
Per quanto riguarda noi?
Stiamo lavorando, 24 ore su 24, 7 giorni su 7, per portare avanti il nostro progetto politico.
Noi siamo appena nati, anzi, siamo appena stati concepiti, ma non potremo mai fare peggio di quello che hanno fatto, quelli prima di noi.
Se volete, potete visitare le nostre pagine e i nostri gruppi di presentazione su Facebook, e se volete informazioni dettagliate visitate il nostro sito web, e se vi piace il nostro progetto unitevi a noi, registrandovi e creando un profilo personale, sempre e solo sul nostro sito web.
Se volete aiutarci potete far conoscere i nostri progetti a più persone possibile, e potete anche collaborare attivamente con noi nei nostri gruppi sul nostro sito web.
Vi ringraziamo, e vi aspettiamo.
Italia
DirectDemocracyS Italia
Stay Informed
When you subscribe to the blog, we will send you an e-mail when there are new updates on the site so you wouldn't miss them.
Comments
No comments made yet. Be the first to submit a comment